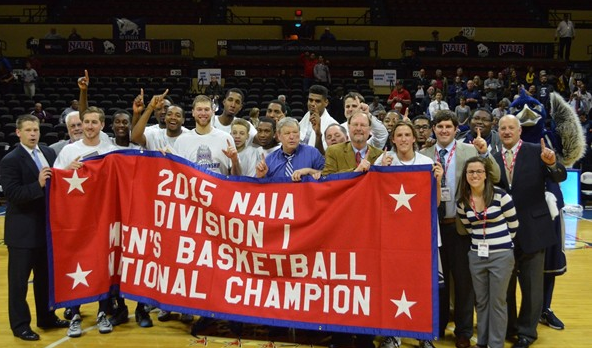 SPOTLIGHT: Dalton State College 2015 NAIA Division I Men's Basketball Champions
DALTON STATE COLLEGE:  2015 NAIA Division I Men's Basketball Champions
"In 2012 we had nothing, no branding, no facilities, no equipment. Jeff Hodge has been a great partner in helping build our brand and athletic program" shares Derek Waugh, Dalton State College Athletic Director.
Derek credits Jeff as the "go to guy" in the industry that helped him find the most efficient ways to build an athletic department on budget. A big portion of the work the H.E. Hodge Company did include the Men's and Women's volleyball, basketball, cross country and the cheer program locker rooms. We also provided gymnasium scoreboards as well as the overall branding of color and sizing for signs inside these areas and around campus. We are pleased to share that the students, faculty and community are raving about the additions on campus as the vision for the athletic program has become a reality. Derek also mentioned that when the volleyball venue sold out last season, Jeff coordinated bringing temporary bleachers in to accommodate all the spectators.
Our support reaches beyond just selling equipment; it is about partnering to help our customers achieve their goals. It is the goal of any Athletic Director to provide leadership and support to enable great outcomes for all their sports teams and Derek has done just that. Dalton State Men's Basketball team just claimed the 2015 NAIA Division I Men's Basketball Championship and they are the first team to do this is their first year of eligibility from the College of Charleston did it back in 1983.
Well done Roadrunners!